Shopping Centre Security Services
We offer top-leading shopping mall security services to clients for preventing terrible incidents and emergencies. Our security officers continuously move inside and outside of the shopping mall to suspect any illegal activity. We also provide constant CCTV monitoring and availability at checkpoints to keep intruders at bay. Our company aims to provide a comfortable and secure environment with incredible security services through our safety guards
Benefits of Hiring a Mall Security Company
Our company provides commendable and beneficial security services at the shopping centre within your requirements and needs. Our security officers are highly experienced in making your area secure from future troubles. You can get limitless benefits by joining hands with securityservicesperth
Prevent Losses
We are specialized in providing security services at your shopping center and preventing losses that occur due to theft, robbery, vandalism, pickpocketing, and other crimes. Our security officers are continuously available at different points for appropriate security measures.
Handle Crowd Well
Our security officers have been provided with special training to manage and handle crowds at your shopping malls. We use advanced technology methods to prevent crowds and gate crushes within your shopping malls. Consequently, we keep the environment stress-free.
Handle Emergencies
We can easily handle medical and other emergencies easily at your shopping center with our effective security services. Our security guards are capable enough to escort people from the shopping malls in emergency cases to save their lives from danger.
Secure Parking Areas
We also provide continuous perth security services at the parking area to prevent unlawful acts. Our security officers allow people to park cars after complete checking to reduce crime cases and great enjoyment experience for attendees at your shopping malls.
Why Choose Us?
We intend to build strong relationships with the customers by correcting discrepancies, giving directions, and responding to different crisis interventions. At securityservicesperth, our guards are devoted to creating a higher feeling of safety for everyone present in the mall.
Trained team
Our security officers have years of extensive, rigorous, and detailed training to keep your shopping center secure with professionalism and integrity.
24/7 Support
We ensure hiring a shopping mall security service offers 24/7 protection of your premises from any possible violent altercations, theft, or vehicle-related crimes.
Customized Service
Our guards are proficient and fully experienced to overcome lots of potential threats outside your commercial center to increase customer service.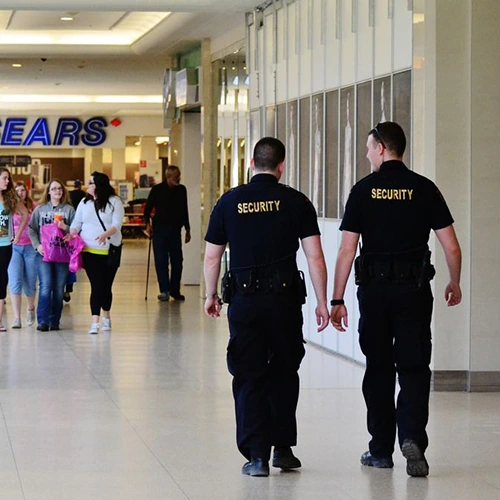 Frequently Asked Questions
Shopping malls are the most common target for criminal attempts like vandalism and theft. Hire the best shopping security near you by contacting us via email or call.
Mall security guards make sure that everyone around the shopping center is safe and sound. They even contact law enforcement authorities, if necessary.
Shopping centers are more exposed to several risks, such as lost children and different violent activities. Avoid all of this by choosing our securityservicesperth.